Ultimate Guide to Infographic Storytelling

Company Group Training
In this 4-week on- and offline course your team will create their own infographic, personally guided by our teachers.
Why your team will love this course
They will create their own, beautiful, information-driven infographic with our lessons on data-storytelling, color, typography, graph and interaction design
They will improve by receiving live feedback from our experts and fellow learners during the course and in our two Online Group Sessions.
They'll uncover secrets of the first 'hidden' stage of infographic design
Our tried and tested Information Design Process will professionalize their design practice
They will feel more confident in client projects
But they really love our extra's: A free Workbook with Templates they can use in their daily practice and a Premium Lesson on Responsible Design.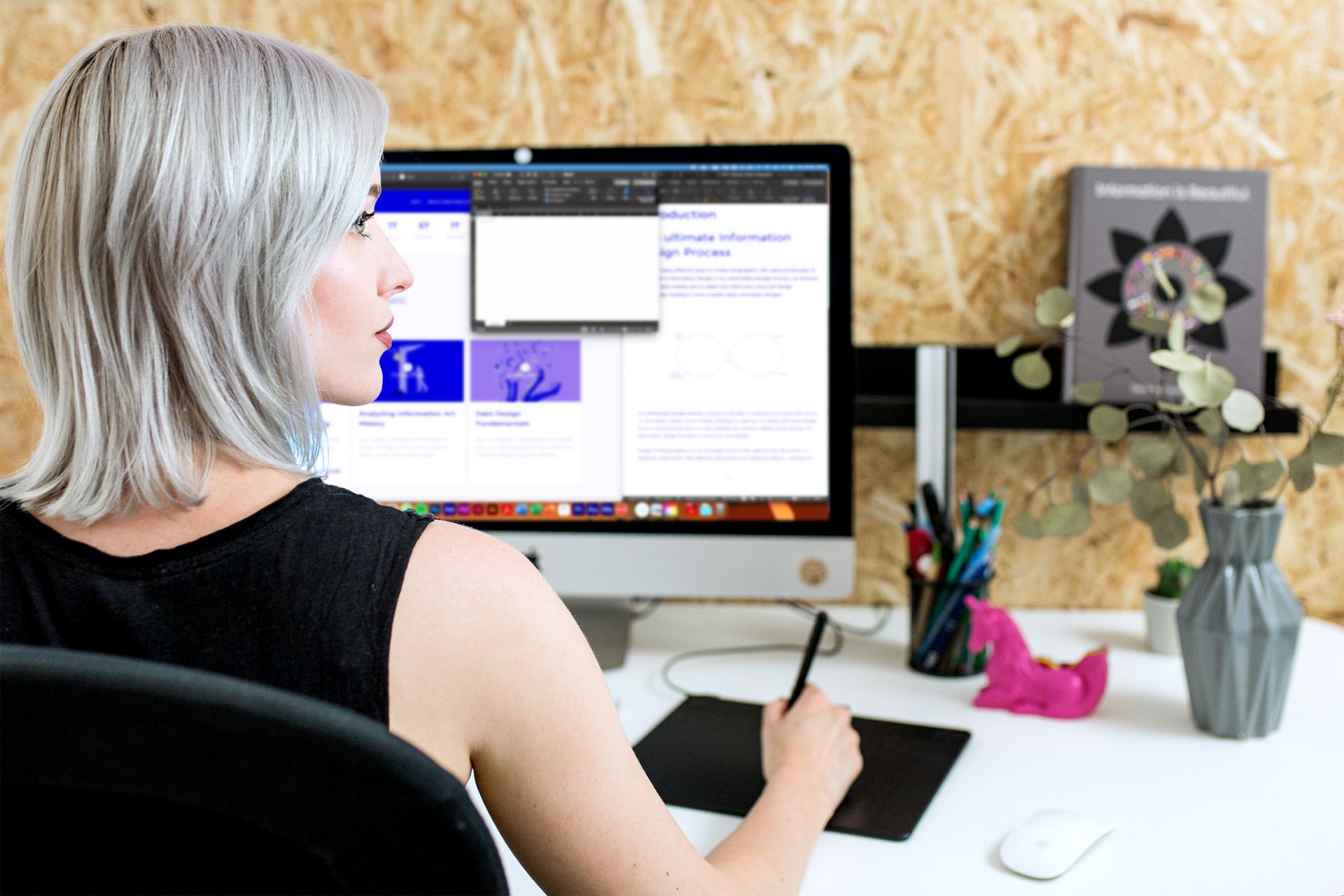 Course
overview
In the 4-week program of the Ultimate Guide to Infographic Storytelling we cover all the basics of good infographic design. In a combination of online theory and quizzes, offline assignments and personal guidance by our teachers, your team will learn to create beautiful, information-driven infographics.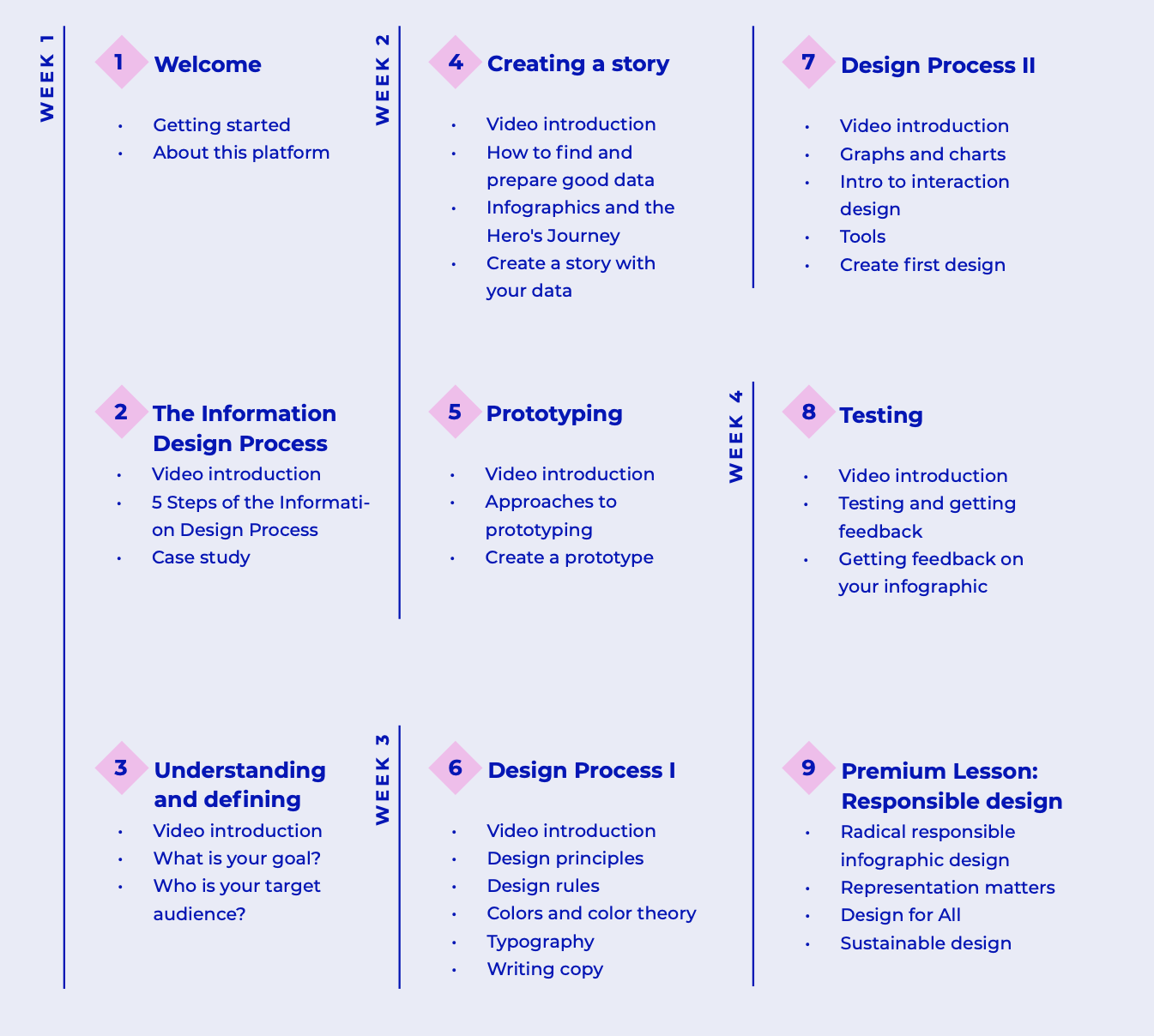 Participating as a
team will enhance organizational learning
Teams will take on their online learning journey together, which makes it easy to link individual to team learning, firmly embedding new knowledge in your organization.
Enhanced knowledge co-creation
Sharing of practices and learning experiences
Hands-on practice and utilization
Contact us for more information on a private secure learning environment and personal guidance by one of our teachers.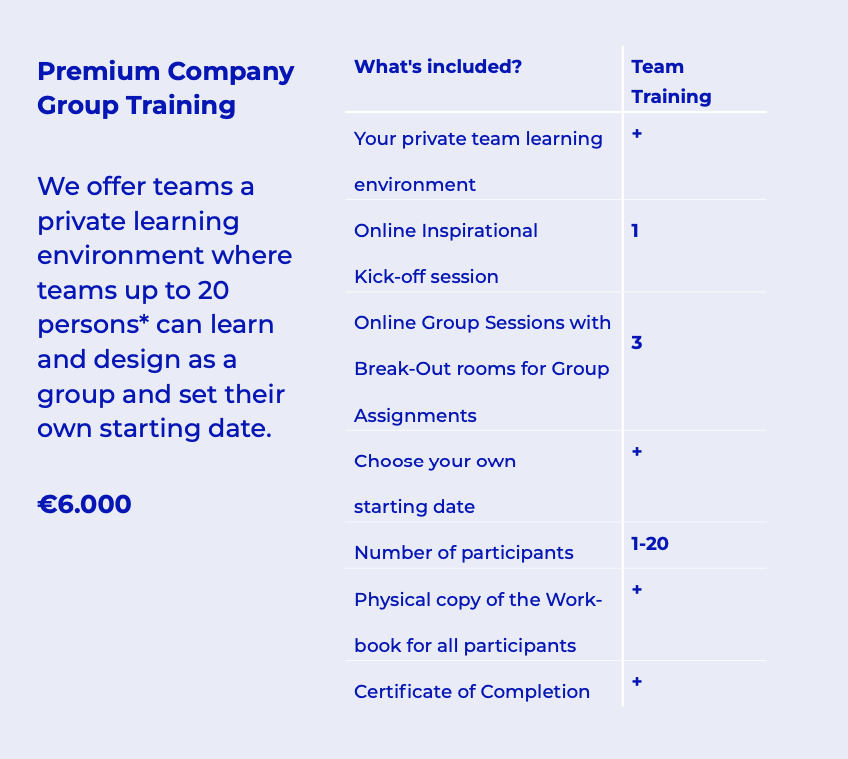 * Contact us to request a quote for Team Training of +20 persons
A little bit more about this course and about us
We are professional designers who've helped hundreds of clients navigating the challenges of sharing data and information.


This course contains 10 years of our personal, hands-on experience with information design and working with clients, crammed into our ultimate approach to information and infographic design.

It will fill you up with all the knowledge, tools, free templates and practices you need to improve your infographic design practice and create beautiful infographics with a positive impact.
Contact us
To book your team training or to learn more about our possibilities for teams.
Thank you! We'll contact you as soon as possible about our possibilities for team learning.

What our community says about us
The course is very accessible because of the video's. They are very inviting. I was also inspired by the work of others. I found the discussions in the community very valuable
Joost - data scientist
Thanks for the workshop. Afterwards, we got many positive reactions. My colleagues liked the teacher's spontaneous and professional attitude.
Johannes - policy maker
We had a very nice day with the infographic training and are now looking how to apply what we've learned in our reports.
Anke - project leader science research
Created with