Ultimate Guide to Infographic Storytelling
Everything you need to know about making infographics: our Ultimate Guide contains all the theory + skill practice you need.
Format

Online skill course
2 Online sessions
5 April 10-11am
19 April 10-11am

Starting date

Open now
90 days access

Contents

9 lessons / 4 weeks
20+ hours theory + practice
Free Premium Lesson
Free printable Workbook with templates


Practice

unlock new content every week
work your own case
connect with other learners

Why you'll love this course
You will create your own, beautiful, information-driven infographic with our lessons on data-storytelling, color, typography, graph and interaction design
Connect with other learners in the course
You'll uncover secrets of the first 'hidden' stage of infographic design
You'll unlock new content every week to keep you on track.
No specific software needed: you learn about the process of infographic making, not how to use a program. If you aren't skilled in any design program, we strongly encourage creating your infographic using pencil and pen.
But you'll really love our extra's: A free Workbook with Templates you can use in your own practice and a Premium Lesson on Responsible Design.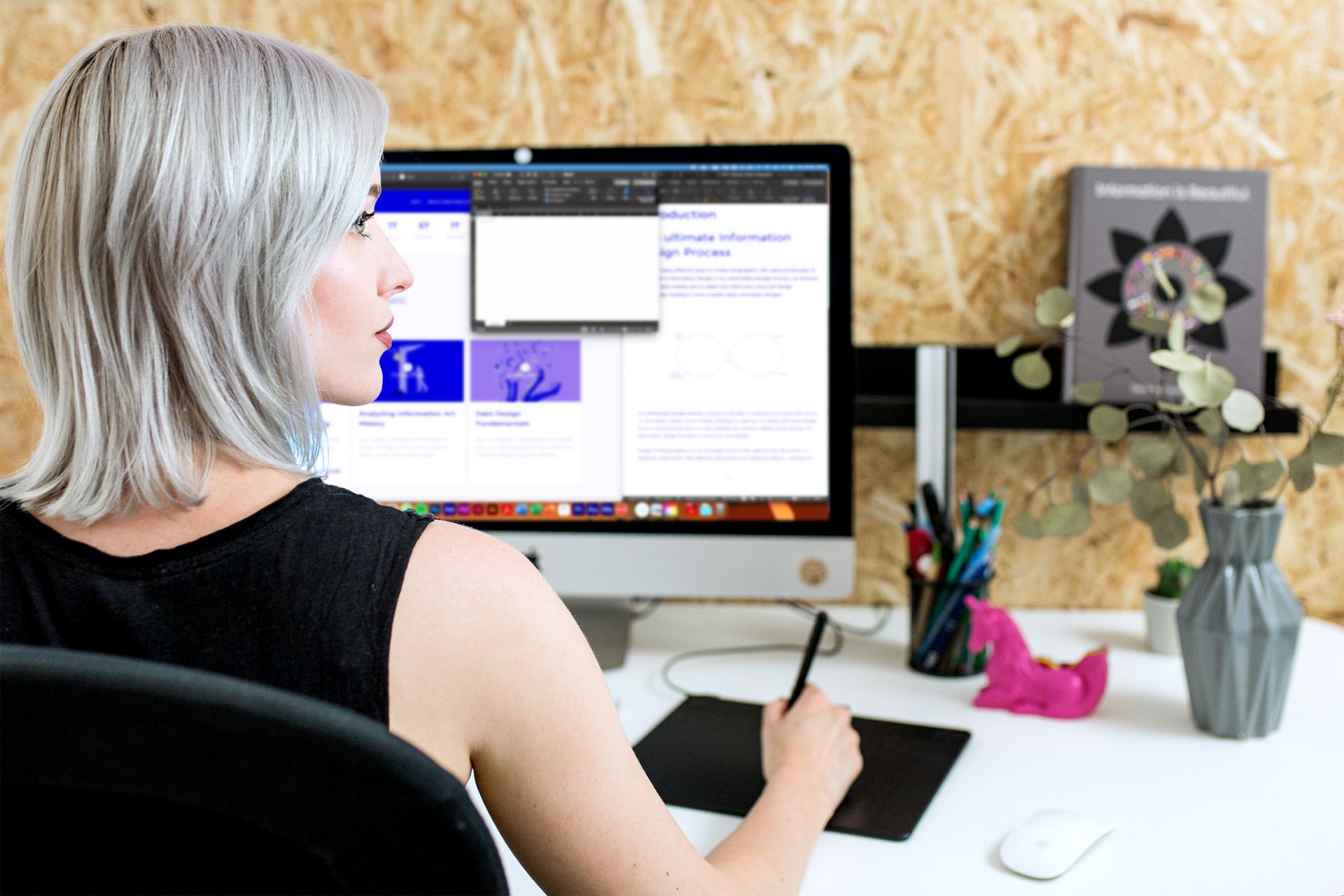 Is it for me?
This course is for everyone who creates or commissions infographic designs or wants to share information visually. It is
not
a course where you get skilled in design software, this is all about process and storytelling. You create your infographic any way you choose. If you don't have skills in a design program, use pencil and pen! Or take our
Quick Guide to Infographics in Powerpoint
.
Experienced freelancers
Experienced freelancers who want to professionalize their infographic practice.
Researchers
Researchers who use infographics to share results with peers or the public.
Beginning designers
Beginning designers who want to learn to create their first infographic.
Policy makers
Policy makers who use visual narratives to communicate to the public.
Communications professionals
Communications professionals who want to know the basics of infographic design.
A little bit more about this course and about us
We are professional designers who've helped hundreds of clients navigating the challenges of sharing data and information.


This course contains 10 years of our personal, hands-on experience with information design and working with clients, crammed into our ultimate approach to information and infographic design.

It will fill you up with all the knowledge, tools, free templates and practices you need to improve your infographic design practice and create beautiful infographics with a positive impact.
Course
overview
In the 4-week program of the Ultimate Guide to Infographic Storytelling we cover all the basics of good infographic design. In a combination of online theory, offline assignments you will learn to create beautiful, information-driven infographics.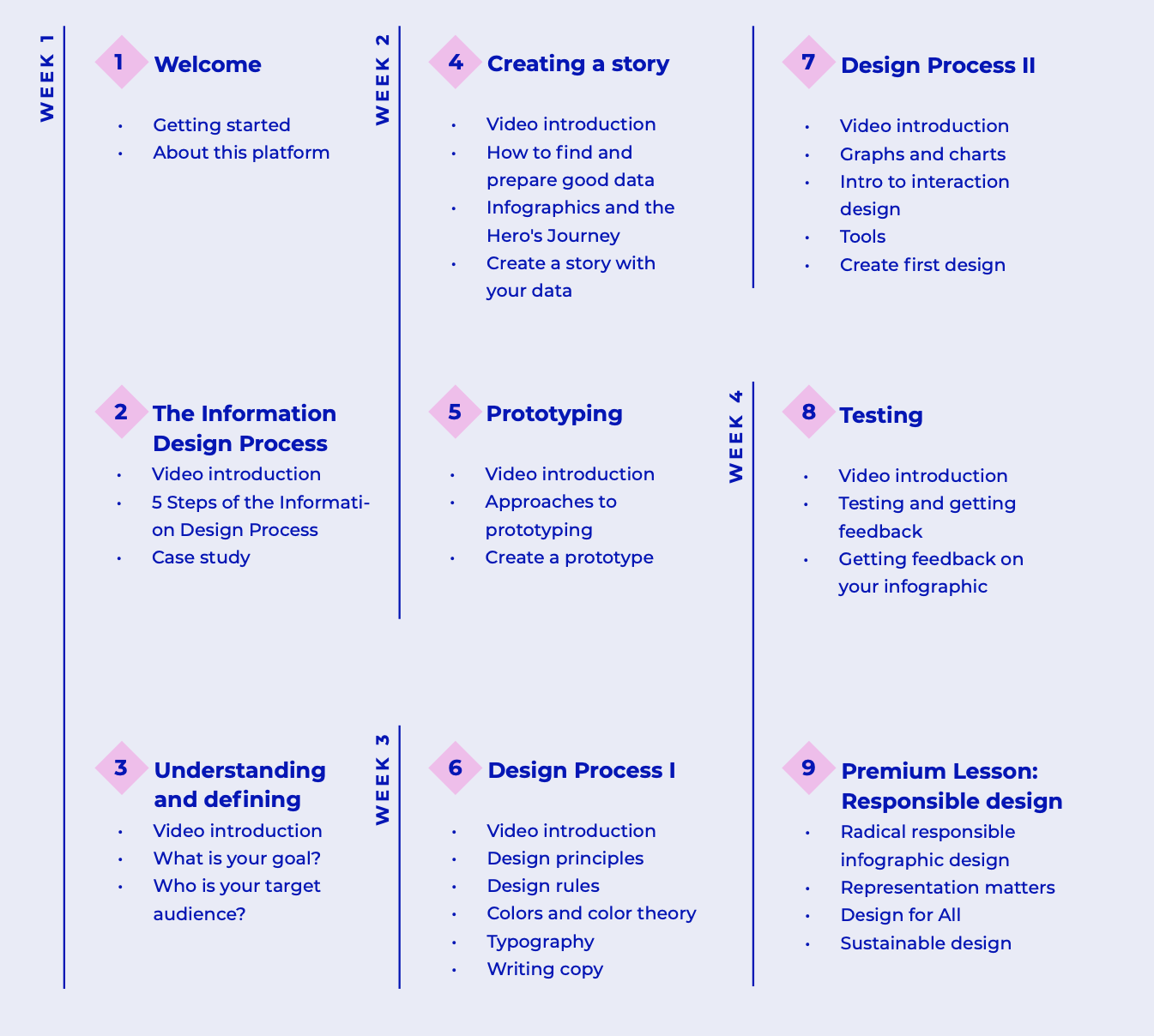 What our students say about us
During the course, the importance of a good preparatory process before you start designing infographics, became very clear. That's where it starts. And you save a lot of time if you get the start right. The course provided practical tools to shape that process. The fact that we worked on our own design was extra fun.
Danielle — marketing and communication

The course is very accessible because of the video's. They are very inviting. I was also inspired by the work of others. I found the discussions in the community very valuable
Joost — data scientist
I received many positive reactions from my colleagues so far. I hope we can follow up on it again, with a longer course.
Wim — youth healthcare professional
Still hesitating?
Try our Infographic Orientation for free
Learn about our unique approach to infographic design, including free tips and advice and a taste of what we have to offer in Ultimate Guide to Infographic Storytelling.
ready for some learning?
Unlock your infographic potential
Contact one of our teachers, if you have any additional questions about this course.
Thank you! We'll contact you as soon as possible to schedule an appointment. In the meantime, why not take a look at our
blog
, or our i
nstagram account
to get to know us a bit better.
Created with